Recommended list of books software and web database development
Section: boekenlijst-software-web-mobiel-database-ontwikkeling-rubriek-css
This page contains recommended books related to software development, development of web sites, related to development of software for mobile devices and Android en related to the maintenance and setup of relational databases.
Click here for an overview of all book lists.
[ Professional CSS - Cascading Style Sheets for Web Design (paperback) ]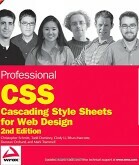 Auteur: Christopher Schmitt
Section:
CSS
Uitgevery: Wrox
ISBN#: 978-0470177082
Taal: English
Back to the book list overview

We recommend Amazon.
Nice to know for those living outside the UK: from 2010, October, Amazon ships free to a lot of European counties if your order exceeds 25 GBP.